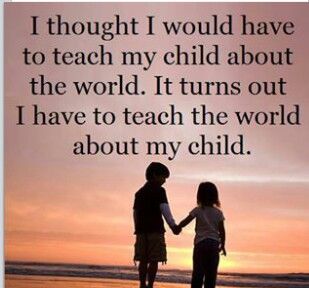 AUTISM SPEAKS… IS THE CHURCH LISTENING?
By Pastor Jonathan Brooks aka Pastah J
As he passed by, he saw a man blind from birth and his disciples asked him, "Rabii, who sinned, this man or his parents, that he was born blind?" Jesus answered, "It was not that this man sinned, or his parents, but that the works of God might be displayed in him. John 9:1-3
BAPTISM BY FORCE
"On the profession and confession of your faith, I now baptize you in the name of the Father, the Son and the Holy Spirit!" This is a phrase I have proclaimed many times since becoming a pastor nine years ago. However, this time was different. I was literally trembling with emotion as I held a bucket of water I was about to pour over the head of an unsuspecting, autistic young man who had refused to get in the baptismal pool. His mom had recently joined our church and wanted to be baptized along with her four foster children. It was obvious that the baptisms were more about the mother's comfort than the children professing their faith. We typically baptize based on personal confession but this mom was avid and wanted this even if it was a baptism by force. I discussed with the mother about how to proceed after his initial refusal and then filled a bucket with water and slowly walked up to the young man, who was looking down and attentively playing with a small hand held video game. I could feel the intensity of his mother's stare and, out of the corner of my eyes, could see tears streaming down her cheeks. I walked extremely slowly because I was more than a little nervous about his possible response. It was in those last few moments before the actual turning over of the bucket that I realized this moment was not just a baptism for him, it was a baptism for us! This was our baptism by force! God knew, without this moment, we would have avoided the work that comes with welcoming this family into our church.
HE NEVER SPOKE A WORD AND HAD US ALL LISTENING
After the baptism service was complete everyone discussed how moving it was to be present for this baptism and how we felt like the day was symbolic of our church moving into an area of ministry we had previously forsaken. However, we really had no clue what that meant! The following Sunday as we prepared to welcome the family with what is typically known as the right hand of fellowship (for us its just everybody hugging and welcoming the family) we learned that the entire church walking up to the front to embrace our new brother was not the wisest choice. He did not respond well to our show of love and quickly taught us that it was not his responsibility to adjust to our traditions but our job to be sensitive to his needs as a member of our community. As a church we really value listening to our neighbors, but we learned a hard lesson that day and although he had never spoken a word to any of us, he had us all listening! We learned that we could not stop listening just because what we heard interfered with how we had always done things. Canaan Community Church, the church where love makes the difference, had to admit that we did NOT know how to love him or his family. Just as we need the Spirit's help to love God with all our heart, mind soul and strength. We needed our brother to teach us how to love our autistic neighbors as we loved ourselves.
3 WAYS WERE BEING TAUGHT TO LOVE OUR AUTISTIC NEIGHBORS

1. GET TO KNOW THE INDIVIDUAL
Autism is considered to be a spectrum disorder, ranging from mild to severe, due to the diversity of expression that is associated with the disorder. On one end of the spectrum are individuals diagnosed with "classic" autism who tend to have limited verbal language and poor social comprehension. On the other end are those individuals identified as having Asperger Syndrome who are verbally competent but still have significant challenges with social comprehension. Steve Shore an adult with Asperger Syndrome stated, " If you have met one person with autism, well, you have met one person with autism." It is good to learn about the disorder but it is imperative to learn the person. (What is Autism, Peter Gerhardt. Ed.D)
2. GET AS CLOSE TO THE FAMILY AS THEY DESIRE
Autism truly effects the entire family. Everyday things that we take for granted like haircuts, grocery shopping, community gatherings and religious practices have quite a different outlook for families having members with autism. Autism changes daily interactions, safety consideration, recreational activities, expenditures and priorities. The family is often dealing with emotional and spiritual confusion and although we make ourselves available they are not always open to our desire to "be there" for them. (Autism and the Family, Alice F. Walsh, M.Div) We know this first hand because this family has not felt comfortable coming back to our church. Although it is painful it is helping us realize we have a long way to go in learning to love them the way they need. We consistently reach out to them but accept that we must be patient, continually learn how to love them and get as close as the family desires.
3. GET WITH OTHER CHURCHES WHO ARE LOVING THE AUTISTIC WELL
Collectively the church is lagging behind on our ability to love those with mental illness and physical disabilities but there are individuals, churches and ministries who love those dealing with mental health issues well. While this blog post is focusing on autism, there are many resources online and amongst various denominational circles that focus on the churches response to various mental health issues. The church is without excuse; from its infancy it has always been the responsibility of the church to remember those who are on the margins of society and to love them well.
For God, who was at work in Peter as an apostle to the circumcised, was also at work in me as an apostle to the gentiles. James, Cephas and John , those esteemed as pillars, gave me and Barnabas the right hand of fellowship when they recognized the grace given to me. They agreed that we should go to the Gentiles, and they to the circumcised. All they asked was that we should continue to remember the poor (marginalized), the very thing I had been eager to do all along. (Galatians 2:8-10)
Here are a few great online resources to get started:
www.autismspeaks.org/family-services/your-religious-community
www.mentalhealthandthechurch.com
Beatitudes for Friends and Family https://m.youtube.com/watch?v=kp2AtXUqSZI