Shopping Cart
Your Cart is Empty
Thank you for your business!
You should be receiving an order confirmation from Paypal shortly.
Exit Shopping Cart
One of the 77 well defined community areas, located on the southwest side of Chicago, Illinois. At one time it was known as South Lynne. The boundaries of West Englewood are Garfield Blvd to the north, Racine Ave to the east, the CSX and Norfolk Southern RR tracks to the west, and the Belt Railway of Chicago to the south. Though it is a separate community area, much of the history and culture of the neighborhood is linked directly to the Englewood neighborhood.

The first settlers to the area that became West Englewood were predominantly German and Swedish farmers who arrived in the 1840s.[3] After construction of rail lines for the Rock Island and Wabash Railroads, the area became known as Chicago Junction which soon changed to Junction Grove. (Commemorated today with the Junction Grove Playlot Park maintained by the Chicago Park District) [4] By 1865, Junction Grove became the unincorporated town of Lake, which was later renamed Englewood.
Two events led to population increases for the Englewood and West Englewood neighorhoods. The first came in 1871 following the Great Chicago Fire. The combination of open spaces for housing and the presence of railroad lines made these neighborhoods ideal for Chicagoans looking for less crowding from the urban center destroyed in the fire. The neighborhoods of Englewood and West Englewood became part of the City of Chicago after the town of Lake was annexed by the city in 1889. With annexation came Chicago street cars and in 1903, the Englewood Elevated Railway Company built a branch running roughly along 63rd Street to Loomis which was connected to the South Side Elevated Railroad. These improvements in transportation made the Englewood area an easy commute to the stockyards and downtown.
According to statistics compiled by the Encyclopedia of Chicago, the West Englewood area had 63,845 residents in 1930, 98% of whom were white and almost 23% foreign born. By 2000, the population had dropped to 45,282 with 98% of residents being African-American. Only 1% of the population was foreign born according to the 2000 census.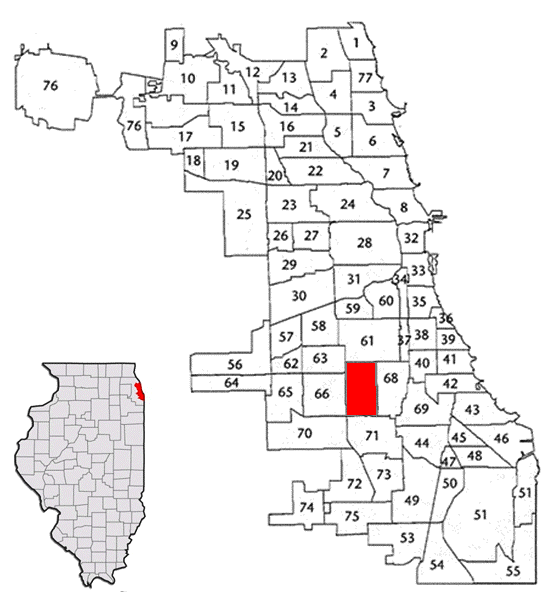 /